We welcome the opportunity to add benches to the Lions Gate walking paths throughout the grounds. It is a perfect way to commemorate a loved one, celebrate a special occasion or mark a significant life event.
A bench may be secured for a $3,600 tax-deductible donation and may be dedicated on our campus grounds. This recognition will be for the life of the bench purchase with the donation. Your contribution will be a great enhancement to many of our residents' quality of life.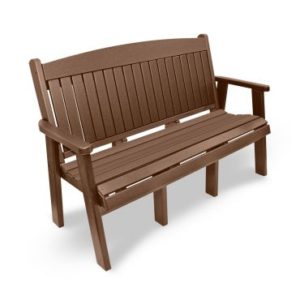 Your donation provides the following:
60" bench style with a medium back height; benches are made from recycled plastic in a weathered wood color. Each piece of furniture is guaranteed to last for at least 35 years without cracking, rotting, splintering or peeling.
All dedications are engraved within the top of the bench. Messages should be simple statements recalling the event or person(s) recognized. Text is subject to the approval of Lions Gate staff.
Donations for dedication benches does not constitute ownership of the bench; the engraved board is symbolic of the donation. Benches will be installed in areas determined appropriate by Lions Gate staff. We will do our best to identify an agreed upon location, but Lions Gate reserves the right to make the final determination. If a bench needs to be relocated, Lions Gate staff will attempt to contact the donor to discuss alternative locations.
Payment in full is required before the bench is produced. Installation takes approximately 8 weeks.
For more information and other opportunities for contributions, please contact us at 856-679-2189.