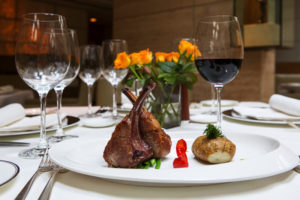 BECAUSE GREAT DINING MAKES FOR GREAT LIVING
Sodexo, the nation's premier company dedicated to providing food, nutrition and hospitality services to senior living communities, is our dining services partner. Sodexo is known for the superb dining, nutrition and wellness programs it offers.
Our partnership with Sodexo now gives you more choices than ever before. Now, you can expect to enjoy delicious Glatt Kosher dining (supervised by a Mashgiach) in a variety of venues, including:
FULL-SERVICE BISTRO
Complete with an open kitchen and chef's demonstrations, residents can stop by at breakfast, lunch and dinner to enjoy fresh offerings such as a salad station, delicious soups, deli specials and homemade pizza. Our menus are healthy, fresh and served with crowd-pleasing flair – and of course, Glatt Kosher.
FORMAL DINING ROOM
Our formal dining room, adorned with linens and complete with servers, offers a restaurant-style atmosphere for our residents. From traditional Glatt Kosher favorites to Mediterranean and New American, our menus feature a variety of chef-prepared selections that are sure to please. No matter what you order, you can expect a range of fresh and creative options.
SKILLED NURSING & ASSISTED LIVING DINING ROOMS
Residents living in the Health Center enjoy their meals in the comfort and convenience of private dining rooms. Featuring restaurant-style menus and chef-prepared choices, each meal is served fresh by caring servers.