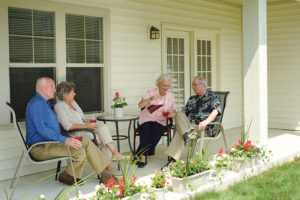 At Lions Gate, residents enjoy an inspired, wellness-focused approach to retirement living that empowers them to enjoy an active, healthy and more joyful life. From fitness programs, educational opportunities and art appreciation to cooking classes, plays and live concert performances, Lions Gate has something for everyone.
ANYTHING BUT RETIRING.
At Lions Gate, we believe retiring is something you do at the end of an active, fun day. Here, you share those days surrounded by people with fascinating stories. You'll meet new friends who are musicians, artists, engineers, lawyers, writers, parents and grandparents – people from all professions, with many viewpoints, and a shared desire to pursue their interests at their own pace.
A GREAT SOUTH JERSEY LOCATION.
Our central location in Voorhees, New Jersey is convenient to everything, making it easy to maintain an active social life both on and off site. We are situated on a beautiful campus across from the Ritz Theatre and we're close to synagogues and other places of worship, as well as dozens of great restaurants.
The Kimmel Center. The Philadelphia Museum of Art. The Barnes Museum. World-class restaurants. All of this is within easy reach from Lions Gate. We're just 10 miles from Philadelphia's shopping, dining, arts, theater, history and special events. And, the Jersey Shore is just 50 miles from your sidewalk to the boardwalk.
LIONS GATE UNIVERISTY
Our on-site lifelong learning program Lions Gate University, helps ensure residents enjoy a stimulating intellectual and cultural environment. Throughout the year, we offer a variety of educational programs. From virtual travel to music appreciation to history discussions, sometimes it's hard to choose which program to attend! Lifelong learning not only helps to keep the mind sharp and open to new ideas, but it also provides a way to connect with others and develop valuable new relationships.
Click here to see our monthly Lions Gate University schedule.
PERSONAL GROWTH & TRUE WELL-BEING.
Life at Lions Gate is a place for personal growth as you pursue your favorite pastimes and intellectual interests. Engage in exceptional dining, cultural experiences and educational programs. Enjoy reading a classic in the library. Go for a swim in the indoor pool. Be entertained at a resident show. You'll find all of this at Lions Gate – and more.
KATZ JEWISH COMMUNITY CENTER
Lions Gate also puts you close to the Katz Jewish Community Center (JCC) where you'll find a multitude of exercise programs and cultural events. We offer regularly scheduled transportation directly from Lions Gate to the JCC.