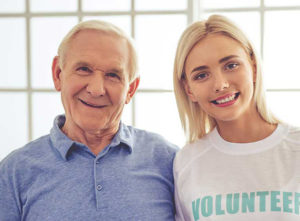 At Lions Gate, our goal is to meet the social, recreational, spiritual and intellectual needs of our residents through diversified programs. To help us, we rely on a team of dedicated volunteers.
We are always looking for compassionate individuals to spend time with our residents. If you are looking for a rewarding and fulfilling volunteer job, we can always use assistance in the following efforts:
Friendly visitors to read to and visit with residents
Activity assistants to help with crafts, play games, transport residents to activities, etc.
Entertainers to share musical, dancing and theatrical talents with residents
Support to the Cantor during religious services
Individuals to work in the gift shop
No experience is needed to be a volunteer. The only requirements are that you are patient, have a big heart and have the desire to enrich the lives of our elderly residents. Your efforts will be rewarded tenfold by a feeling of immense satisfaction that you have brightened someone's day.
As a volunteer at Lions Gate, you will be responsible for upholding the friendly, respectful and hospitable environment that we strive to afford to all those who live in and visit our community.
Are you interested in discussing how you can make a difference in the lives of our residents? Contact Gabriel Bey, Volunteer Coordinator at (856) 679-2393 or [email protected].