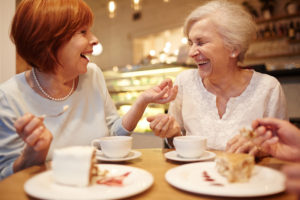 Lions Gate, a not-for-profit Life Plan Community that is part of Jewish Senior Housing and Healthcare Service, opened its doors in 2007 to serve the needs of an aging Jewish population in South Jersey.
Rooted in Jewish values, culture and tradition, Lions Gate is a thriving community with a combination of Independent Living residences, private cottages, Assisted Living apartments, Skilled Nursing Care and a Short-Term Rehabilitation Center. Each resident has their own unique story and circumstances, which enriches the sense of community life at Lions Gate.
Lions Gate inspires wellness in many ways. Our community is alive with activities; from social activities and cultural events to religious programs and more, there is always something to do. Residents can attend musical performances, socialize with friends in the bistro, join a fitness class or play cards with a group of friends. Residents also enjoy regular outings to locations off campus as well.
ABOUT JEWISH SENIOR HOUSING AND HEALTHCARE SERVICE
In addition to Lions Gate, Jewish Senior Housing and Healthcare Service (JSHHS) offers the community a residence dedicated to providing limited-income seniors with quality, affordable housing options.
Saltzman House offers safe and affordable residence options where seniors can enjoy a fulfilling, independent lifestyle. Residents have access to a variety of programs and services, including housekeeping, scheduled transportation and one hot kosher meal a day.
Without this community, many of these seniors would be living in isolation, not seeing or speaking with friends or family members for days or longer, or they would be living in unsafe environments, unable to navigate the physical layout of their homes or afford costly home repairs.
MAKE AN IMPACT
By contributing to this residence, you are helping to enrich the life of seniors in need by allowing them to live with dignity within safe, compassionate communities.
For more information about Jewish Senior Housing and Healthcare Service, please visit our website at www.jshhs.org.