Lions Gate & Kellman Brown Academy Better Together Update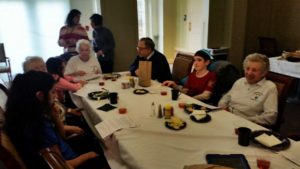 The children at Kellman Brown Academy and Lions Gate residents participated in a Tu B'Shvat Seder together. We discussed ways of marking new years, resources that should be conserved, how we plant seeds for the next generation and so much more. We drank four cups of grape juice, ate delicious dried fruits and sang songs in Hebrew!
Thanks to a grant from a well-respected national foundation, our Better Together program is strong and impactful.
Intergenerational programs bring children and seniors together by offering opportunities to interact and create ongoing, beneficial relationships. Studies show children who participate in intergenerational programs experience improved academic performance, enhanced social skills, decreased negative behavior and increased stability. Seniors experience decreased loneliness and increased self-esteem.
Kellman Brown Academy is a Premier Jewish Community Day School and the nation's only Green Ribbon Jewish Day School. KBA is accredited by the New Jersey Association of Independent Schools.